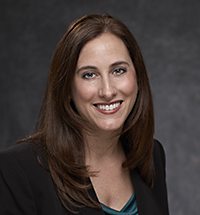 Michelle D. Bayer
Attorney
Ms. Bayer focuses her practice in the areas of employment law and related litigation, as well as health care law.
Employment Law
Businesses
Ms. Bayer works with a broad array of businesses, including health care entities, to establish written operating and business handbooks, policies and procedures, employment manuals, employment contracts, and non-compete agreements as well as to provide training for management and staff with regard to discrimination, harassment, Family and Medical Leave Act ("FMLA") administration, accommodation, whistleblower investigations, and other issues. In addition, Ms. Bayer has significant experience defending wrongful termination cases; age, race, gender, and disability discrimination claims; FMLA cases; whistleblower and retaliation cases; and contract/business matters in state and federal court. She has also defended administrative claims involving the Department of Labor, the Unemployment Insurance Agency, the Equal Employment Opportunity Commission, and the Michigan Department of Civil Rights.
Individuals
Ms. Bayer also provides counsel to individuals in connection with employment matters, such as employment and independent contractor agreements, restrictive covenants, and severance packages, as well as in connection with wrongful termination, discrimination issues and litigation, whistleblower litigation, administrative claims, and unemployment benefits.
Health Care
Health Care Entities and Professionals
Ms. Bayer represents health care entities and professionals in connection with professional licensing matters, medical staffing, credentialing and privilege disputes, hospital/physician governance and relations issues, regulatory matters, and related litigation. She also represents health care professionals negotiating employment and business-related contracts, restrictive covenants, confidentiality agreements, and compliance issues.
Fraud and Abuse
In addition to representing whistleblowers in the employment environment, Ms. Bayer has successfully represented many whistleblowers in Qui Tam cases for fraud and abuse being committed against the Federal Government and various States, and Cities around the country.
Education
J.D., Wayne State University Law School, Detroit, Michigan, 1996
Moot Court top 10 finalist Free Legal Aid- Student Attorney
B.A., Michigan State University, East Lansing, Michigan, 1993
Psychology Deans List
Jurisdictions Admitted to Practice
State of Michigan
U.S. District Court Eastern District of Michigan
U.S. District Court Western District of Michigan
Professional & Bar Association Memberships
State Bar of Michigan
Oakland County Bar Association
Fellow, Oakland County Bar Foundation
Published Works
"Health Care Trifecta: Non-Compete, Non-Solicitaion, and Confidentiality Agreements in Michigan—What Works and What Doesn't" Co-author with Michael H. Rhodes and Warren H. Krueger, Michigan State Bar Health Law Section, 2014.

"What Employers Need to Know About Healthcare Reform" Co-author with Zack Glaza, Michigan Medical Law Report, Fall 2013.

"Have You Violated the NLRA? Check Your Social Media Policy," Michigan Medical Law Report, 8 M.L.R. 2 (Summer 2012).
"Sexual Harassment Victim Awarded Over $160 Million Against hospital," Health Care Weekly Review, April 2, 2012 (Vol. 28, Issue 13).
"Valuable Lessons Learned from Whistleblower Case," Michigan Medical Law Report, 8 M.L.R. 1 (Spring 2012).
"Buyer Beware: Physician Consent to Settle Malpractice Cases May Not Be Required," Michigan Medical Law Report, 7 M.L.R. 49 (Winter 2012).
"Health Care Has Seen Significant Uptick in ADA Accommodations Enforcement,"
Michigan Lawyers Weekly, 26 Mich.L.W.126 (December 12, 2011).
"New Telemedicine Rules Give Flexibility to Hospitals, Providers," Michigan Medical Law Report, 7 M.L.R. 25 (Summer 2011).
"Health Care Has Unique Issues in Social Media," Co-author, Michigan Medical Law Report, 6 M.L.R. 4 (Winter 2011).
"Handling Hospital Investigations and other Privileging Disputes," Co-author, Michigan Medical Law Report, 6 M.L.R. 3 (Fall 2010).
"Accommodating Patients under the ADA," Michigan Medical Law Report, 6 M.L.R. 12 (Spring 2010).
Medical Marijuana.' Is the Workplace About to Go Up in Smoke? (Frank Haron Weiner Blog)
"They're Efficient, But Mail-Order Internet Pharmacies Have Intricate Legal Requirements," Michigan Medical Law Report, 3 M.L.R. 25 (Summer 2008).
Contributing editor, The Workplace Violence Prevention Reporter, 1996-1998.
Co-author, "Basic Wage & Hour Law in Michigan," Lorman Education Services, 1997 Seminar.
Co-author, The Family and Medical Leave Act: The Final Regulations, The Urban Lawyer, Winter, 1996 Edition.
Presentations And Speaking Engagements
Presenter at OCBA Employment Law Section Meeting on Wage and Hour Issues, February 10, 2015

Panelist for the Oakland County Bar Association Employee Benefits and Employment Law Committee's presentation on "Health Care Reform: Is your Business Prepared?," 2013.
Panelist for the Disabilities Right's Bar Association's Conference in Baltimore, Maryland concerning the intersection of the False Claims Act and disabilities rights, 2013.
Presenter at the Michigan Home Care Association's annual conference on Important Employment Issues in Home Care, 2013.
Presenter at the Michigan Home Health Care Association's 2012 Annual Conference, in Traverse City, on Employment Issues Affecting Home Health Care.
Presenter at the Michigan Home Health Care Association's 2012 Annual Conference, in Traverse City, on Social Media and Medical Marihuana issues.
Guest Lecturer at Wayne State University Medical School on Business Issues in the Practice of Medicine, 2012.
Presenter at seminars at Beaumont Health System, St. John Providence, Henry Ford Health System, Harper Hospital, and Kresge Eye Institute regarding business issues in the practice of medicine, including contract negotiations, restrictive covenants, privileging and credentialing issues, state licensing board actions, and reports to the National Practitioner Data Bank (NPDB), 2012, 2013.
Speaker, "Sexual Harassment? Yes, It Happens and What You Can Do About It" Oakland Health Alliance, 2006.
Speaker, Council on Education in Management Seminar on FMLA and ADA, 2003.
Speaker, Council on Education in Management Seminar on FMLA and ADA, 1999.
Speaker, Lorman Education Services Seminar on FMLA, ADA and Workplace Violence, 1997 -1999.