Monica P. Navarro: Woman in the law 2010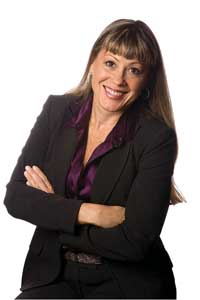 By Carol Lundberg
Even when Monica P. Navarro was 16 years old, she recognized that a woman sometimes has to go a long way to find opportunities.
In her case, she had to leave her country, Colombia, or face a future in a society that, at the time, offered very little for women.
"I wanted something better than that," she said.
She moved to Miami, leaving her family behind, and rented a room from a Colombian family. She learned English, landed a job, and two years later went to college. While studying political science and international relations at Florida International University, she knew where her education was leading: to law school.
"I loved the law, and I loved constitutional law," she said. "And I loved the idea of lawyers as the protectors of social justice."
From Miami, she went to University of Michigan Law School, and after graduation, moved around a bit before finding the right firm, one that would enable her to do something that very few firms would do: work a reduced schedule.
"In 1996, the idea of a reduced schedule was not really a tried idea in Michigan," Navarro said.
But as a new mother, that was important to her. Though she had an offer from one of Detroit's largest firms, she went to a smaller firm that would take a chance on her.
Two years later, that firm had dissolved, and Navarro had to find another employer. She had the advantage of having proved that she could make a more family-friendly schedule work.
She landed at Frank, Stefani & Haron, where she was introduced to a very specialized niche, qui tam. Then, out of qui tam, she grew a health care law practice.
All the while working a reduced schedule, she also grew her business so well that she became partner at the firm, which is now known as Frank, Haron, Weiner & Navarro.
Her former classmates started calling to ask her how she did it.
And she was able to bring other women lawyers to the firm, women who had been shut out from the practice of law when they decided not to work longer hours while trying to balance the needs of their families and their clients.
"That was rewarding to me," she said. "I brought in other phenomenal lawyers, incredibly productive lawyers. Thankfully, I had thoughtful and forward-thinking partners."
She has since scaled back her law practice a bit again, opting to focus more on bringing young lawyers into the profession, as a professor at The Thomas M. Cooley Law School.
Concerned with diversity in the profession, she helped facilitate the formation of the Hispanic Latino Law Society at Cooley.
"Latinos are not joining the profession in the numbers we need to protect the rights of all," she said.
"So teaching was the next frontier. I'll never stop being a lawyer. But I want to do things that are bigger."